Imitation Tile Flooring for Unforgettable Faux Floors!
So, you're doing the homework to pick out a new floor or to pep up a plain wall.
Whether you're renovating your whole house or just revamping one room, the look of tiles has caught your eye.
And it should be no surprise that tiles have grabbed your attention – whether it's metro, mermaid or parquet or even something decidedly different, tiles are always high up on the interior design hotlist year after year.
And as well as being a design classic, a tiled floor can add sophistication and colour to a room, deftly changing its overall look.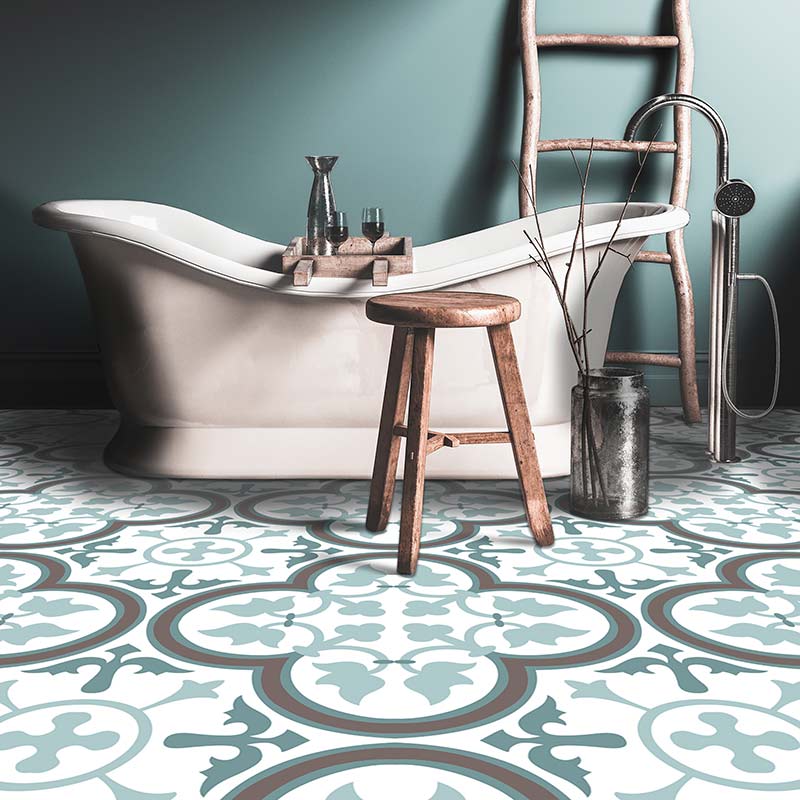 However, tiling your entire floor can be time-consuming, costly, and difficult to do, which is why faux tiles and imitation tile flooring has become so popular.
In years gone by, tiling was the only effective option for walls and floors in rooms such as bathrooms or kitchens. But nowadays more people are choosing to opt for an easier alternative that looks just as good as tiles but without the hassle – a wall and floor covering that looks like tile.
If we've piqued your interest – or if you're just an interiors geek looking for a quick read – then grab a brew and give yourself five minutes as we explain how to make imitation tiles work in your home.
A brief history of the tile
It may come as a surprise but tiles have a history predating the world of interior design magazines or #TileGoals.
The first evidence of tiles traces back to the 13th century BC, in Iran. Since then, many countries, cultures and buildings have used the humble tile to decorate their homes.
Because there have been thousands of years of tiles, you have an endless amount of inspiration to look to.
For example, these Moroccan tiles are rich in history and feature intricate details that catch the eye.
They might seem a bit over-the-top for your two-bed flat in Didsbury, but at For the Floor and More, we love anything rich in colour and a little bit "extra".
While the original tiles were painstakingly hand-painted and installed, imitation tile flooring can emulate every shape and curve exactly, all while being a doddle to install.
The main takeaway: Use the thousands of years of tile history to get inspired, then find an imitation to make life that little bit simpler.
Choose the right pattern for your home
Before choosing an imitation tile flooring pattern, ask this question: does your home have a consistent theme, or is it a mish-mashed hodgepodge of styles?
Some interiors lovers are committed to one aesthetic, for example: a Scandinavian theme that stretches from the front door right through to the attic bedroom.
Other people are happy with each room having a different feel, e.g. an industrial kitchen offset by a traditional country living room, with a crossover of styles being the ideal goal.
Before you choose a pattern, consider how it will fit in your home.
You could fall head over heels in love with a detailed Chinese-design, but if you're committed to a minimalist style throughout the home, it might not look right in your home – no matter how much you lust after it.
If you aren't overly bothered about everything matching, go crazy! Part of the fun of building a home is adding your own individual quirks, so experimenting is definitely par for the course and wholeheartedly approved by us all at FTF&M!
The main takeaway: consider how the pattern will look in your home before committing.
Understand the types of imitation tile
Whether you've decided to go for an imitation tile because it's easier to install, or because you'd like to keep costs down, you'll want the process to be as smooth as possible – so make sure you go for the right type of imitation.
These include PVC or acrylic panels; large slabs of stone that have been carved to represent lots of small tile; vinyl designed to look like a tile, and more.
Here, we have selected two examples of imitation tile that could work for you.
The photo above shows wall panels, while the below image shows floor vinyl, both of which have been designed to look like wall tiles and a fake tile floor.
Deciding which is right for you depends largely on what surface you need to cover.
Panels are a great choice for walls, as they're easy to wipe clean of shower gel and rogue toothpaste splatters.
Vinyl is best suited to floors and is equally easy to look after and keep clean.
Satisfy yourself with samples and ask all the questions to make sure you pick the right type of imitation tile flooring for your home.
The main takeaway: check with an expert to see which type of imitation tile works best for you and your space.
If you've decided on imitation tile flooring but just can't find the right colour to match your vision,  we can customise 99% of our designs or even help in creating your own – just get in touch.
And there's plenty of information in this post about how to order our vinyl flooring to get you a bit closer to making up your mind
Hope this helps and thanks for stopping by and catching up – Josie
PS – as a thoroughly different type of tile, have a look at our large format printed Feature Tile range here.
Have Unique Period Flooring Without The Hassle!
Ordering Your New Vinyl Flooring